Harley Davidson part
Saturday, February 18, 2017
We got a call from the Service Department at Bert's Barracuda Harley Davidson in St. Petersburg, FL when they exhausted all other option to find a replacement part. They had two customers unable to ride their older model Harley's because the parts were no longer made. The mechanics were able to take apart the speedometer and discover that it was a gear in the speedometer that was normally sold as an entire kit.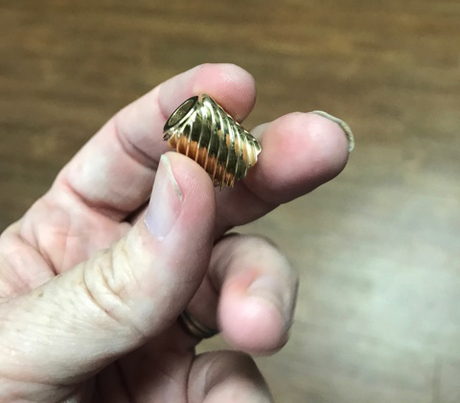 They were able to give us the original gear for us to use as reference to create the digital 3D file. We printed a rough print in-house to test the design and fit. Then we ordered a high resolution print in Nylon, and gave to the staff at Barracuda's to test. They installed it and got a few blocks but then the speedometer stopped working again. They took it apart and saw that the material the gear was printed in failed. It was not strong to withstand the heat from the rotations of the gear.

So we decided to 3D print it in a castable wax material and then a vendor we work with was able to make the part in brass. We printed another one to test and it worked! The Parts Department decided to order several more so they'd have them on hand if they had other bikes come in with the same issues.